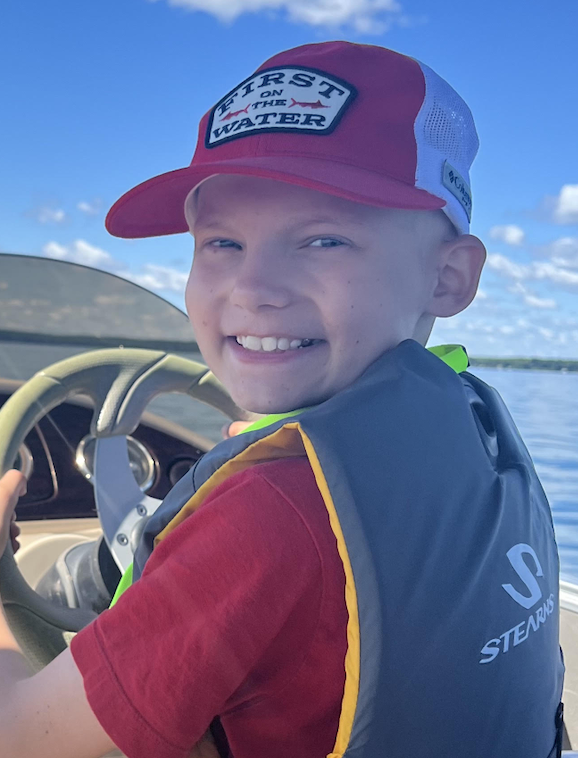 Navigating the challenging journey of neuroblastoma, Jameson's diagnosis was first in 2017, when he was 5. The cancer has relapsed multiple times before, during, and after the Covid-19 pandemic, and he is now bravely undergoing clinical trials in Ohio to put this cancer in remission once and for all. Jameson, and his mother Grace, have received nothing but attentive and compassionate care from the hospital physicians and doctors, who are doing everything possible to support Jameson's fight against this merciless disease.
Jameson
Jameson is a bright young boy from Iowa. He has big aspirations and absolutely loves to sail on boats. His mother, Grace, has always done all she can to make sure Jameson has the childhood and life that any child such as Jameson deserves to have: one full of joy, fun, and learning. Devastatingly, no family, nor child, is prepared for the word "cancer."
Jameson was diagnosed with neuroblastoma for the first time in 2017 when he was only five years old. Children such as Jameson should never have to worry about frequent trips to the hospital, meetings with physicians, and the treatments necessary once cancer is detected; he is only five, hardly in Kindergarten. Neuroblastoma is a particularly wicked cancer that mainly targets children age five and younger; it is a terrible disease that develops from immature nerve cells in a few different parts of the body.
Jameson is strong, however, and he is stronger than this predatory cancer that seeks to destroy his life; he is not letting that happen. It is now 2023, and Jameson is now eleven years old; he has been receiving treatment for six years, more than half of his life and has since gone through three remissions, yet sadly, young Jameson is on his fourth relapse of this horrid cancer.
The regular treatment has been working, and the remissions have been the utmost blessings, but it has not been working enough since this is the fourth relapse of Jameson's cancer. It just won't go away. His mother has been taking him to Ohio for specialized clinical trials to finally put Jameson's cancer into remission for the fourth and final time so that he can live out the rest of his childhood cancer-free. It has been a six year fight (during the Covid-19 pandemic we might add!) for this precious family, and neither are giving up anytime soon.
Recently, with the trips to Ohio, it has been even more difficult than it otherwise would be. For Grace and Jameson, it is a ten hour drive. Because of the long hours and trips on the road, Grace has not been able to work full-time, and health insurance can only cover so many things. This has taken a financial, and emotional toll on Grace and Jameson both, but neither of them will stop fighting. Cancer will do all it can to destroy a family's spirits, but Grace and Jameson will not let it take theirs as this brave young boy fights for his fourth and final remission.
The ACCBF has been able to come to Grace and Jameson's aid in this time of need. Grace expressed the need for some help paying their bills for their essentials, and your support through the ACCBF has made sure that this happened. Even though you may not ever meet this family, because of your generosity, you are giving them a fighting chance and aiding Jameson as he fights for a cancer-free life.
These trips are long, and another thing that the ACCBF has been able to do for this family is send Jameson an ACCBF care-package backpack! This has given him things that can remind him that he is strong, brave, and loved, as well as entertain him on these long car rides to get the care he needs.
When the Bible says to be the "hands and feet of Jesus," this is what it means. It means helping those in need and providing them with the resources and tools necessary to keep fighting through hardship and pain; you do this for kids like Jameson through your generosity. So, from us, and Grace, and Jameson, we thank you for aiding their fight for Jameson's cancer-free life.
Watch Jameson's story on our YouTube channel!
Dear Jesus,
In this moment of heartfelt prayer, we lift up Jameson, a courageous young soul battling the trials of neuroblastoma. You, who know the depths of every heart and the intricacies of every struggle, we come to You with hope and faith, seeking Your healing touch.
Lord, You are the ultimate source of comfort and strength, and we beseech You to envelop Jameson in Your unwavering love. As he faces the challenges of his condition, be his shelter in the storm, his guide through the darkness, and his anchor of hope.
We pray for healing, both physical and spiritual. Ease his pain, calm his fears, and grant him the resilience to face each day with courage. Let Your light shine brightly within him, dispelling any shadows that threaten to dim his spirit.
Surround Jameson's family with Your grace, Lord. May they find solace in Your presence and draw strength from the love and support of those around them. Through their journey, may they discover the depths of their own endurance and the power of unity.
As the medical treatments unfold, guide the hands of the doctors and nurses entrusted with Jameson's care. Grant them wisdom, insight, and a touch of Your divine healing power. May every step of his treatment be marked with progress and hope.
Jesus, You are the ultimate healer, and we hold onto Your promises of restoration and renewal. We envision a future for Jameson filled with laughter, dreams fulfilled, and boundless joy. As he fights this battle, let his spirit remain unbroken, his heart unyielding, and his faith unshakeable.
Through the darkness of uncertainty, be his guiding star. Through the pain that tests his endurance, be his soothing balm. Through every step of this challenging journey, remind Jameson that he is never alone. Your presence is a constant source of strength and comfort.
In the face of neuroblastoma's challenges, we declare Your sovereignty, Jesus. We believe in the power of Your healing touch and the miracles You can manifest. May Jameson's story become a testament to Your grace and the resilience of the human spirit.
Though we may not understand the reasons behind the trials we face, we trust in Your divine plan. Let Jameson's journey serve as a beacon of hope, inspiring us all to cherish each moment and lean on You in times of need.
In Your compassionate and mighty name, we offer this prayer for Jameson's health, well-being, and ultimate victory over neuroblastoma.
Amen.